We want to make sure that people living in- or visiting- Austin can understand what's on the City's website. Moving forward, we want to take a people- and service-oriented approach to speak to residents.
Service-oriented language is a way of addressing the services available to residents, instead of the departments providing the services.
If service-oriented language focuses on the services available to the residents, then it makes sense that department-oriented language sheds light on the department providing the services.
While that is important, we've found that most websites with department-oriented language are not easy for residents to understand, and typically include a lot of jargon and acronyms.
As a CCCE, you'll need to write ACPFA and provide AMSARs with the content they need to complete GSR's to be a SCRTD. JK! (just kidding)
Was that confusing? Can you imagine being an Austin resident trying to understand City acronyms? With service-oriented language, we must focus on writing for the people, not our departments.
Using service-oriented language makes it easy for residents to find out what they need to know, and it's in the details:
Not using acronyms for City services or departments,

Making it easy for residents to view a webpage on their mobile device,

Writing in an approachable voice and tone,

Keeping the reading level below 8th grade

Breaking blocks of written content up into smaller chunks,

Implementing an intuitive menu/navigation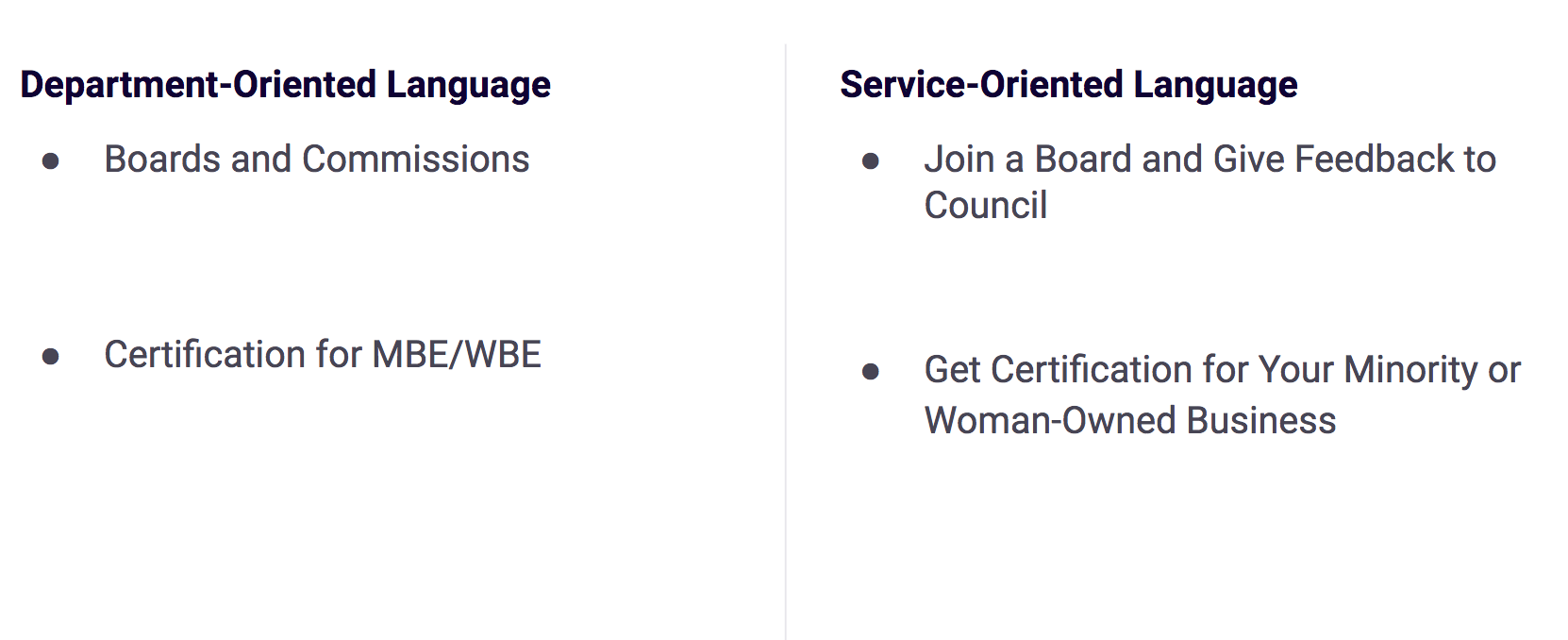 There will be times when you must use department names in resident-facing content. A good rule of thumb is: If a resident must call, email, go to, or otherwise interact with a department or division in order to access a service or information, use the department or division's name. Remember to capitalize the name, since it is a pronoun. If it's not necessary to use the name, rewrite it to focus on the action required or other key information.
Four examples of other cities and governments who are doing a great job of incorporating service-oriented language are: